Posted by Neil Humeon Jun 29 10:33.
Meh!
The IPO research blackout on Glencore International has been lifted this Wednesday, which means the investment banks responsible for the UK's latest IPO flop are now free to heap praise on the commodities trading house.
From Citigroup:
Glencore (GLEN.L) — Staying the Course

UNITED KINGDOM | MINING – DIVERSIFIED | BUY/MEDIUM RISK We are initiating coverage on Glencore with a Buy recommendation and £5.70 target price. Our Buy recommendation is based on Glencore's unique market positioning and long term growth opportunities. We forecast the company to generate earnings of $5.9bn in 2011e and $7.4bn in 2012e, we base our 12- month target price on a 9x 2012E.
And from UBS:
Glencore (GLEN.L)
Growth dynamic

Management-driven entrepreneurial approach

This report initiates coverage of Glencore with a Buy rating and 630p price target. Glencore is the world's largest integrated producer and marketer of commodities by traded volume. The company seeks to maximise ROE in all activities and employs an entrepreneurial approach to managing its assets, listed equity stakes and marketing division. In our view, this sets Glencore a.part from other London listed miners.
And Morgan Stanley:
GLEN.L, Glencore — Initiate at OW /Master of commodity flows

We initiate at OW on Glencore (PT £6.04), one of the world's largest commodity marketers with 2010 sales of over $140bn – close to half a billion dollars of revenue every day – which would make it the third biggest FTSE constituent by revenue (after Shell and BP). The blended multiple 2011e 8.7x P/E is in line with the large cap mining average, undervaluing its marketing business, which we value at 13x P/E. We also believe the price does not reflect the superior organic growth in its Industrial businesses with a 5-year volume CAGR of c17% vs 6-9% for other diversified miners. Last, its stakes in associate companies (a significant $28bn) are not held for implied value alone, but marketing agreements with these are a significant component of its strategy.
And Credit Suisse:
Initiate with Outperform & TP 600p; Made for a volatile world

We initiate coverage of Glencore with an Outperform rating and a £6.00 target price: An uncertain macro backdrop and uninspiring set of inaugural Q111 results have led to weak trading conditions for Glencore shares in recent weeks. However, we expect Glencore's unique business model, diversified earnings streams and fast-acting approach to growth to deliver value over the medium term and we expect a stronger trading/demand environment to lend support in H211. Following Glencore's evolution from a private to public structure, we think the next 6-12 months will be critical for the company in allaying investor concerns around M&A, corporate governance, proprietary trading risk and industrial asset volume growth.
And then Liberum Capital:
Liberum Capital: Unapologetically unique
PRICE: £4.85 | UK | MINING | GLEN LN

Following its 18th May IPO we initiate coverage on Glencore – a major integrated producer and marketer of commodities with a track record of producing phenomenally high returns (avg 38% RoE over 10 years). Since IPO shares are down –8%, only marginally underperforming a number of key peers within the context of challenging market conditions. With near-term earnings growth at twice the rate of diversified mining peers we see Glencore outperforming over the next 12 months.
If there's anything to apologise for, of course, it's the IPO valuation, which in hindsight was clearly too rich.
Anyway, investors seem unimpressed with today's Glencore love-in.
At pixel time, shares were just 6.5 pence higher at 492.9p in a rising market.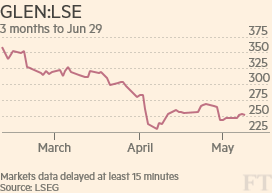 Nota bene – the float price was 530p.
Related link:
Glencore, an overvalued Japanese throughput manager – FT Alphaville
This entry was posted by Neil Hume on Wednesday, June 29th, 2011 at 10:33 and is filed under Capital markets, M&A. Tagged with bookrunners, Glencore International, IPo, research.