Posted by Neil Hume on Jun 27 10:17.
What goes up…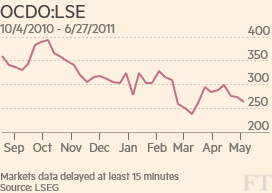 … Must come down.
And Webvan 2.0 has come back to earth with a resounding thump on Monday morning.
Shares in the internet grocer are back below the float price (180 pence) after half-year results raised more questions about its business model, even as Ocado managed to post a small pretax profit (albeit one that was below expectations).
For example, basket size fell by 1.4 per cent as customers signed up for Ocado's delivery pass service, deliveries on time or earlier fell from 94.9 per cent to 92.7 per cent, there were more stock outs and substitutions than last year (items delivered exactly as ordered were 98 per cent from 99.1 per cent) and it's still trying to increase capacity at its warehouse in Hertfordshire.
That's in spite of promises made in the second quarter trading statement that Ocado would fix its capacity issues.
None of this, of course, is good news at a time when competition is increasing.
It risks irritating customers, which is not good, says Oriel Securities:
We will probably downgrade our numbers today but will wait for the analysts' meeting for more colour. The shares remain extortionately valued, but the business shows no signs of delivering the requisite upgrades. The shares can be nothing other than a SELL.
More downgrades then.
Clive Black, retail analyst at Shore Capital, reckons there have now been three batches of downgrades on Ocado since it listed in Jukl2010 (including last week's clairvoyant ratings cut from house broker JPMorgan).
He reckons this not acceptable given the multiples Ocado trades on:
Three downgrades for a stock on stratospheric valuation multiples is neither acceptable nor sustainable to our minds, something has to give and we believe that it should be the stock price.

And in this respect Shore Capital downgrades its own forecasts for Ocado in 2010/11F by £3.0m or 7.5% from EBITDA of £39.7m to £36.7m; CPTP cut from £10m to £2.5m (reflecting the higher than expected finance costs). With a very challenging consumer economic environment and Waitrose's challenge to come, we believe there are few tailwinds to support Ocado's momentum.
Actually, it's difficult to think of any.
The valuation remains stratospheric, Waitrose is poised launch its service within the M25, the backdrop for consumer spending remains grim and Ocado has to deliver a new warehouse on time and to budget. If that weren't enough, directors will be free to sell stock in a couple of weeks, although surely none of them will attempt to slot shares below the IPO price.
At pixel time Ocado was down 21p at 166p.
Update: 14.16 (BST)
Feedback from the analyst meeting.
According to Jefferies, Ocado outlined five major initiatives to deal the capacity issues at Customer Fulfilment Centre 1 (CFC1) were outlined. Unfortunately,  the work won't be completed until the end of the fiscal year, which runs to November. That means trading momentum is unlikely to recover this year.
Also of note is that the marketing revenues were the main driver of EBITDA growth in the first half of the year.
EBITDA progress was significantly driven by increased marketing revenues (accounting for c.60% of the YoY EBITDA increase). A greater propensity by suppliers to invest on online marketing, and Ocado's enhanced/revamped website have been major factors behind this
Related links:
Webvan slows down – FT Alphaville
The man with the Ocado van – FT
This entry was posted by Neil Hume on Monday, June 27th, 2011 at 10:17 and is filed under Capital markets, People. Tagged with Ocado, Waitrose, Webvan 2.0.