Posted by Neil Hume on Jun 22 16:02. 3 comments | Share
For Wednesday's equity market disaster du jour we take a short hop across the North Sea to the Netherlands and Koninklijke Philips Electronics, which has unleashed an ugly profits warning that's knocked about EUR2.5bn from its market capitalisation. More…
For Wednesday's equity market disaster du jour we take a short hop across the North Sea to the Netherlands and Koninklijke Philips Electronics, which has unleashed an ugly profits warning that's knocked about EUR2.5bn from its market capitalisation.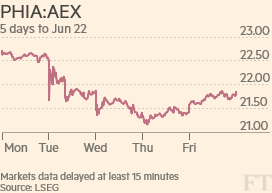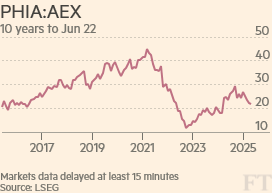 The company is pinning this latest disappointment* on weak demand in Europe for products made by its lighting division and its toasters-to-shavers consumer products business.
Philips' announcement:
Reflecting weaker than expected market conditions, especially in the consumer sector in Western Europe and construction activity in mature markets, Lighting is expected to report low single-digit comparable sales growth in the second quarter of 2011. Next to tempered sales growth and pressure on margins, incremental investments in innovation and marketing will adversely impact EBITA, which is estimated to be around EUR 85 million in the quarter.
In Consumer Lifestyle, the traditional consumer electronics market, in particular in Western Europe, is facing ongoing weak demand, declining license revenues and the impact of the TV disentanglement. This will more than offset double-digit growth in Personal Care and Health & Wellness, resulting in an expected low-single digit sales decline. Combined with the decline in license income and the increased spend in advertising and promotion, the EBITA is estimated to be around EUR 50 million in the quarter.
The trouble is no-one seems completely convinced by this explanation. Indeed, Siemens, which owns Osram, a rival lighting business, is said to be surprised by the Philips announcement. It has apparently seen no change in business conditions and its LED chip unit is performing to plan (a message that's likely to be repeated when Siemens reports next week).
A more likely explanation is that the new management team at Philips, under restructuring specialist Frans van Houten, is discovering that the firm is slow to innovate and is being undercut by rivals.
Philips counts Samsung and LG Electronics as rivals in consumer electronics, and General Electric and Siemens as rivals in the hospital and lighting markets. Then there are the Chinese firms, which are pushing into the LED market, says Hans Slob of Rabobank.
Besides lower margins we also fear for future market share losses for Philips Lighting as there will be more companies wanting to get a piece of the LED pie. LED lighting is on its way to become a mainstream product so it means the price will face downward pressure as competition intensifies. We are currently seeing increasing competition from Chinese players. China is set to become the world's leading producer of LEDs in 2012, based on sales of LED manufacturing systems. Sanan Optoelectronics Co., China's leading LED producer, spent around 12bn yuan on building a new plant in Wuhu, Anhui Province to double capacity by 2012.
We are also seeing increasing competition from Samsung in the US and in China. Samsung recently announced its entry into the US LED lighting market. Samsung has introduced a range of LED lamps into the US market, enabled by the company's vertically-integrated manufacturing capabilities. Samsung has a vertically-integrated supply chain producing LED chips, packaged LEDs, modules, light engines and now lamps. Samsung also aims to be largest vendor of LED lighting in 2013 in China. Samsung Electronics has been extending its LED production from backlights to lighting applications with China being the major market, and will shift production of LED lighting products from South Korea to Tianjin, China.
In other words, it's turning into a Dutch Nokia.
Slob reckons the flagged EUR 200m incremental investment level is not enough to materially increase the "clock speed" of Philips.
Indeed, we wonder if the end game here is break-up. Certainly if there is no let up in the bad news the pressure will build on van Houten to rip Philips apart and build something around the bits worth keeping.
The loss-making TV business is already being spun off into a joint venture with Chinese TV manufacturer TPV Technology. Will lighting follow?
*To put the downgrade into some context, Philips now expects second-quarter EBITA for the lighting division of about 85m euros, down 60 per cent from a year ago, while consumer electronics will record EBITA of about 50 million euros, a drop of 71 percent from a year ago.
Update: 16.52 (BST).
More comments, this time from Unicredit:
How long will be it take for the new management to turn around the company? At Siemens it took the Loescher/Kaeser team around two years to gain traction and deal with the legacy problems (and arguably the stock has yet to re-rate to a sector multiple). While Philips has fewer non-core assets left, we continue to believe that Lumileds should be sold before margins in this capital-intensive* business collapse (c.f. history in memory chips or solar PV cells). The three end markets are generally OK in our view, but the company needs to take a much more structured and focused approach in lighting (i.e. focus on full solutions, including lighting controls and reduce vertical integration) and consumer (exit the legacy consumer electronics businesses and focus on domestic appliances, health & wellness and personal care). Given the pressure on margins and the share price, management may be quicker to act going forward.

Given the massive structural changes in Lighting, the increasing competitive environment in Consumer Lifestyle and growing Asian competition in Healthcare, the group needs to become a lot leaner and restrict its activities to areas where it can achieve a competitive advantage. The 2015 EBITA margin targets, disclosed last year under the leadership of the former CEO, appear overoptimistic in our view and will probably be adjusted in October this year. Based on the current share price, the market is now pricing in EBITA margins around 6-7%, which appears overly pessimistic. However, in the absence of more clarity on the scale of the problems, we expect investors to demand a substantial risk premium.
Related links:
Philips: dimly burning lights -Lex
Philips warns on losses at TV division – FT
Philips hit by subdued demand in developed markets – FT