Posted by Neil Humeon Jun 15 17:23.
The curse strikes again!
At the close of play on Wednesday, Glencore International was trading almost 11 per cent below its IPO price of 530p.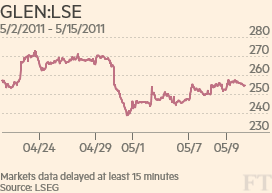 Ouch.
And to think the stabilisation period is still running (to Friday in fact).
Indeed, the whole being a listed company thing is proving to be somewhat difficult for everyone's favourite commodities trading house.
A bit of loose talk from chief executive Ivan Glasenberg trigged a call from the Takeover Panel and this statement:
In response to press speculation, Glencore confirms that it is not in active consideration of an offer for ENRC. As a consequence of this announcement, the Panel Executive has ruled that Glencore is subject to Rule 2.8 of the City Code on Takeovers and Mergers in relation to ENRC. Glencore however reserves its rights to make an offer in the future with the consent of the Takeover Panel, with the recommendation of the Board of ENRC, in the event of a third party offer for ENRC, or in the event of a material change in circumstances.
And then there's the  issue of Glencore inadvertently disclosing Xstrata's recent performance via the 'net income from associates line' of Tuesday's badly received Q1 results statement.
That drove a sell-off in Xstrata shares, which has continued today. That said, it does appear that one or two brokers slightly overreacted to the net income figure. Liberum Capital, which on Tuesday, was running around telling clients that 20 per cent might have to be lopped off forecasts, for example has since back-pedalled:
Xstrata shares also underperformed yesterday as analysts began their usual model revisions ahead of interim results, with cost inflation, foreign exchange and price realisations (particularly in coal), driving consensus downgrades. The release of Glencore's numbers meant the market focused on Xstrata, but it is clear all the majors are exposed to these issues. In particular we see cost inflation continuing to pressure estimates across the sector, but see this continuing to justify owning the Big 4 long-term, where exposure to Tier 1 assets will continue to generate the strongest returns as marginal cost moves up.
Indeed, one can expect to see a raft of downgrades across the sector before the end of the month as analysts adjust their forecasts to reflect movements in the FX and commodities markets in the past quarter.
Anyway, it's not all bad news in IPOland.
On the other side of the Atlantic a certain loss-making online radio company has had a spectacular market debut.
NEW YORK, June 15 (Reuters) – Pandora Media Inc <P.N> shares soared as much as 48 percent in the online radio company's stock market debut, as investors flocked to get a piece of the latest Internet start-up, even though it has yet to turn a profit. Pandora shares opened at $20 on Wednesday — implying a market value of about $3.2 billion — and later traded as high as $23.75 before giving back some of those gains. The company is trading at 24 times its 2010 sales, far above the value placed on Google <GOOG.O>, Amazon <AMZN.O> and Sirius XM <SIRI.O>.
Dot.com bubble 2.0, alive and well.
Related link:
The curse of the UK IPO strikes again – FT Alphaville
This entry was posted by Neil Hume on Wednesday, June 15th, 2011 at 17:23 and is filed under Uncategorised. Tagged with glencore, IPo, xstrata.