Posted by Neil Humeon Jun 16 08:48.
More of the same on Thursday morning as commentators set nerves on edge by referring to Greece as the eurozone's Lehman moment.
And so, the euro has taken further punishment, breaking its 100-day moving average for the first time since February.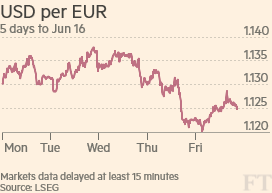 Not helped by ECB's Nout Wellink calling for a doubling of the euro bailout fund.
Meanwhile, the Greek bund spread has widened…
RTRS-GREEK/GERMAN 10-YEAR GOVERNMENT BOND YIELD SPREAD 30 BPS WIDER ON DAY AT 1,541 BPS
… and the two year note now yields almost 28 per cent.
Via Markit some CDS prices:
GREECE 5-YEAR CREDIT DEFAULT SWAPS RISE TO RECORD HIGH 1,850 BPS, UP 124 BPS ON DAY

SPANISH 5-YEAR CREDIT DEFAULT SWAPS RISE TO 305 BPS, UP 18 BPS ON DAY

PORTUGUESE 5-YEAR CREDIT DEFAULT SWAPS RISE TO RECORD HIGH 833 BPS, UP 44 BPS ON DAY

IRISH 5-YEAR CREDIT DEFAULT SWAPS RISE TO RECORD HIGH 805 BPS, UP 34 BPS ON DAY
Equities are also on edge.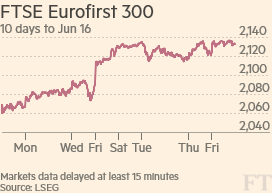 At the stock specific level, Dexia, which has a large holding of Greek government bonds, has fallen sharply… … and SocGen is under pressure: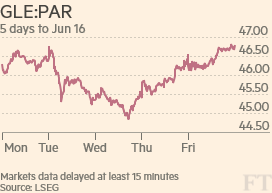 Oil has at least attempted something of a dead cat bounce after Wednesday's sell-off.
But it's hardly anything to get excited about.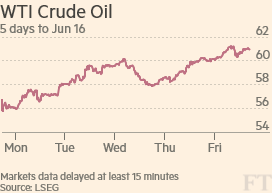 Meanwhile, London's recent big IPO hits plumbs new lows.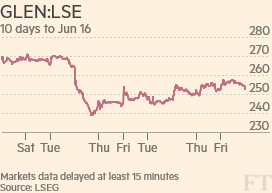 Ouch!
14 per cent below the float price and counting.
Related links:
Eurozone and growth worries damp mood – FT's Global Market Overview
This entry was posted by Neil Hume on Thursday, June 16th, 2011 at 8:48 and is filed under Capital markets, Commodities. Tagged with dexia, Dollar, euro, glencore, Greece, oil.